It is a fact of life that if you have a pet, you will have to clean up pet hair. However, what vacuum cleaner you use is imperative to how not only how long it takes, but also how clean it gets your home.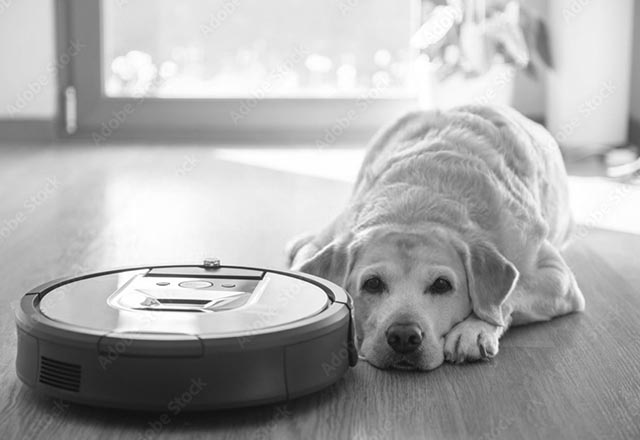 One of the biggest issues of having a pet is shedding. By investing in a good quality robot vacuum cleaner, you can take some of the cleaning responsibilities off your list. This will leave you more time to focus on your beloved fur baby.
We have compiled a list from our Labrador Retriever Facebook Group of the best robot vacuum cleaners for dog hair.
So no matter if you have one or more pups, large or small,  these recommendations from our group are sure to please.
Top Recommendations
There are many types of robot vacuum cleaners lining store shelves and online. Picking the best one can prove to be quite the chore if you do not know what you are looking for. You will need to find one that not only fits your budget but also has all the features you want.
Our top four recommendations are the ones most mentioned in our Facebook group. We have compiled all the comments and the most mentioned products are listed here by order of recommendations.
1. Eufy RoboVac X8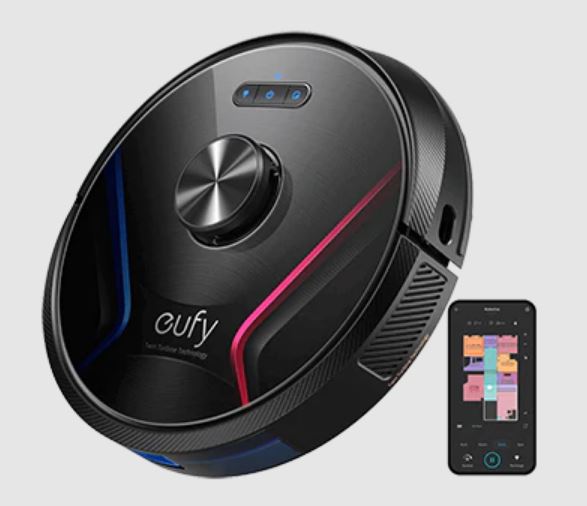 With twin-turbine technology, you can be certain you are picking up more pet hair and debris with the Eufy RoboVac X8.  Cleaning every square inch of your floors, this robot vacuum is super powerful while being on the quiet side. With ultra-dust compression for 127% increased capacity, you will not have to empty it every day. Manufactured with iPath Laser Navigation for Accurate Mapping, this robot vacuum will set you back $500.
Pros:
Vacuums carpets and tougher terrains
Quieter than other models
Can go a few days without emptying unit
App's scheduling is useful for busy lives
Cons:
Cleaning the garbage bin is tricky so you do not make a large mess
It is not self-emptying
The charging system needs a large space
Can't voice navigate for particular rooms
2. Roomba j7
The Roomba j7 robot vacuum has a robust  3-Stage Cleaning System that packs 10x the Power-Lifting Suction. With an Edge-Sweeping Brush that cleans along walls and corners, this Roomba j7 has patented Dual Multi-Surface Rubber Brushes that flex to adjust to different floor types. It won't get tangled with pet hair. Setting you back at $600, this pet vacuum contains PrecisionVision Navigation to recognize and avoid common objects in its paths such as cords, pet waste, socks, and shoes.
Pros:
Avoids pet accidents on purpose
No need to pick up the floors before use
Offers cleaning time estimates and reports
Able to adjust the cleaning schedule to your preferences
Cons:
Steep price tag
Does not have as much suction
3. Shark RV100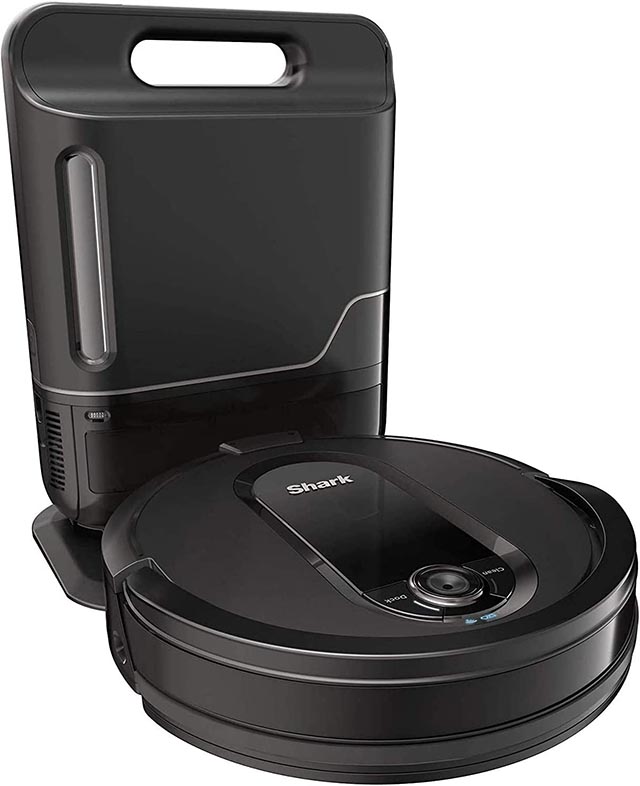 The Shark RV1001AE comes with a bagless, self-emptying base that holds up to 45 days of dirt and debris. The vacuum allows you to map out your home and select which rooms to clean. You can also schedule whole-home cleanings or target certain rooms or locations with the SharkClean app or voice control with Amazon Alexa or Google Assistant. This Shark will set you back just under $420.
Pros:
Works with Google Assistant or Amazon Alexa
The dustbin is self-emptying
Comes with a physical boundary strip
Cons:
Larger debris can clog the dustbin
Battery life is not the greatest
4. Bissell Spinwave Robot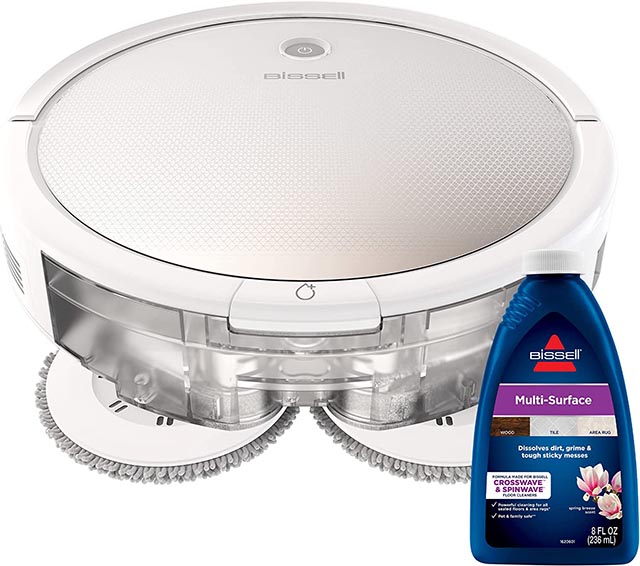 The Bissell Spinwave Robot Pet features Triple Action Cleaning System that utilizes dual spinning edge brushes, a rotating brush roll, and robust suction with up to 1500 Pa to clean dirt on carpet and hard surfaces. Setting you back $230, this vacuum has a runtime of 130 minutes and recharges in 4 to 5 hours, automatically returning to the dock when it's done cleaning or needs a charge. Utilizing a row-by-row cleaning pattern, this Bissel provides efficient cleaning coverage.
Pros:
Vacuums and mops
Avoids carpets when in mop mode
Steers clear of drop-offs and stairs
Quiet
Inexpensive compared to other robot vacuum models
Cons:
Does not have voice control
No mapping features
Are Robot Vacuum Cleaners for Dog Hair Worth It?
Now that you are familiar with the best robot vacuum cleaners for dog hair, you may wonder if these vacuums are even worth it. The most frequent answer provided on our Facebook Labrador Retriever page is yes, these vacuums are worth it.
Robot vacuums are perfect for pet parents that do not want to invest hours cleaning.
Lori Moreno says that her Shark Robot Vacuum is so worth it because it picks up all the pet hair. These vacuums were designed to pick up all the pet hair and keep your home dander free.
And Brandi Ann Fehr says that even with 3 Labradors in the house, you can not tell most days they live there because her robot vac does such a great job.
Robot vacuums can also keep your home cleaner than other types of vacuums on the market. You can schedule when you wish to run them.  They will also fit into tighter spaces, getting where you may not be able to fit your regular vacuum cleaner. Pet dander and fur that has made their way under a bed or couch is no problem anymore because the robot can squeeze underneath and capture all that debris.
Tina Markland works at an Airbnb and stated some guests brought a robot vacuum with them for their 2 golden retrievers. She said when they left after 3 days she would have never known they had dogs with them.
Those who have disabilities or injuries will love how well a pet robot vacuum keeps the floors clean with no work on their part. Simply schedule when you want the vacuum to run. There is no pushing, pulling, moving, or reaching associated with this as there is with a manual vacuum cleaner.
Managing Editor, With a background in health, holistic nutrition and science, Chloe has written for international publications including the Wall Street Journal and Green King.