When selecting a dog food brand for your labrador puppy, it can be quite the challenge. With so many different dog food companies, it would take forever to make a list of pros and cons for each brand.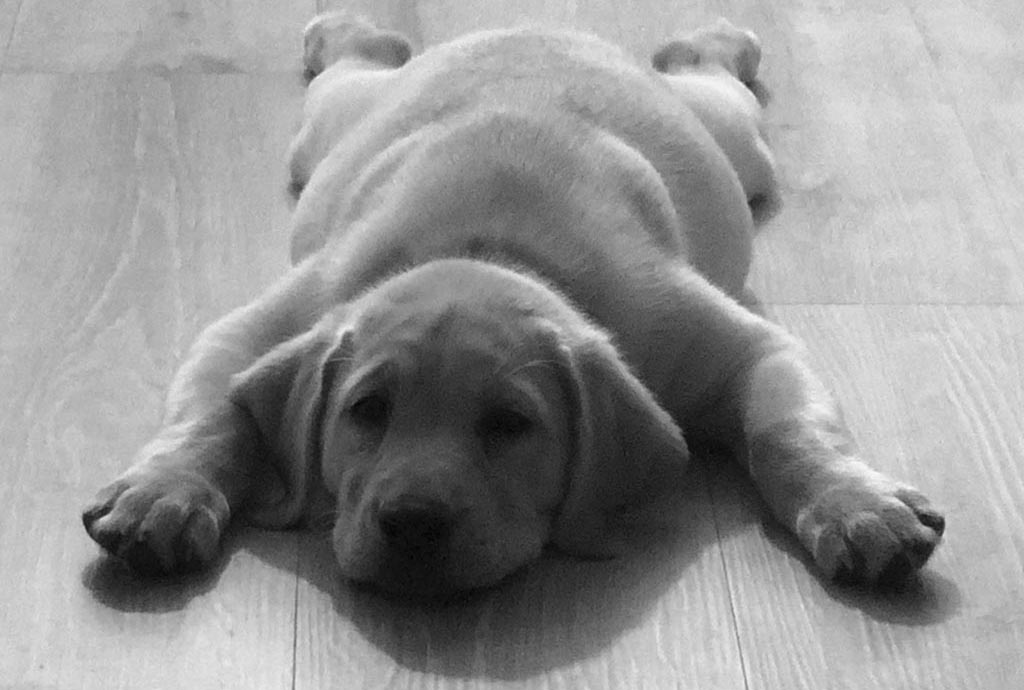 We have compiled a list from the Labrador Retriever Group on Facebook with the most mentioned and most recommended dog food brands for labrador puppies by scanning thousands of comments and posts. It is important to find the one that works best for your fur baby as these pooches still have a lot of growing to do.
Top Five Dog Food Brands For Labrador Puppies
Most labradors will thrive on a high-quality diet of dog food that is appropriate for their age. And to be frank, what food works really well on one lab may not work well
The order of the list is by total number of recommandations of the specific brand in the Labrador Retriever Group.
#1 Purina Pro Plan
Purina Pro Plan is highly recommended by veterinarians. It is backed by over 400 Purina scientists, behaviorists, vets, and nutritionists.
There are various Purina Pro Plan dog foods that can assist in nourishing the coat and skin while helping to support a healthy digestive tract.
Lynda Mitchell said that her lab's coat seems to be a bit shiner when she is on PPP.
Ingredients help to boost a healthy immune system
Formula is protein-rich for active pooches
Healthy joints and mobility are supported
#2 Wellness Large Breed Complete Health Puppy
Wellness is a well-trusted dog food brand on the market. Essential vitamins and minerals are provided, along with antioxidants, probiotics, and glucosamine.
Bethany Moleman Olson said that she has used Wellness for years. She has searched the ingredients in several dog foods and has found she likes the ingredients in this brand the best.
A good chunk of the protein comes from chicken in Wellness Complete
Sufficient nutrients are provided and is well balanced for your dog
Contains no GMOs or meat by-products
#3 Royal Canin
Royal Canin is not only from a trusted company, but it was formulated with labradors in mind. It is formulated with antioxidants to give a boost to the immune system, and helps to promote an ideal weight with healthy bones.
Once your lab is ready for adult food, you can transition them to the Royal Canin Labrador adult food.
No chemical preservatives
DHA-Omega 3
Optimal levels of EPA and DHA maintain healthy skin and a healthy dog coat
#4 Hills Science Diet
Hills Science Diet was created by a team of over 200 scientists, veterinarians, and PHD nutritionists. They have a high standard when it comes to making dog food.
Our Facebook group member Tina M. Allen said that Hills is a choice for them because their two labs have allergies. Hill's sensitive formulas made it possible for them to gain nourishment from the food without getting ill.
Danelle Jacobs said that during her Labs first visit to the neurologist for epilepsy, the vet said Science Diet was the only thing he would ever feed his pooches.
Only natural ingredients are used
With every purchase, Hill's Science Diet donates food to animal shelters, helping to feed over 100,000 homeless pets each day.
#5 Diamond Naturals Lamb and Rice
Diamond Naturals Lamb and Rice is known to have a stringent protocol when it comes to ensuring each batch of their pup food is up to the highest standards. Workers monitor and test raw goods  that come into  the plant, the production area, the manufacturing stages, and the final products.
Diamond Naturals Lamb and Rice is made from superfoods, probiotics, antioxidant-rich fruits, fiber filled vegetables to help your dog receive all the nutrients it needs.
Paul Stewart Schooler Jr. stated " I've been feeding' my 4 yr old girl Diamond since she started eating' adult food. I personally think for the money, it's just as good as any high priced competitor's food."
Contains Omega-3 fatty acids
Lamb is the top ingredient
Full of antioxidants
How Often Should You Feed Your Labrador Puppy?
How often and how much you feed your lab can be a hard question to answer. Each pup will grow at their own rate. Just as each one will have their own metabolism and activity rate.  It will also depend upon what ingredients are in their food.
It is best to look at the guidelines listed on your food. Then go from there. If you notice your dog is getting to be a bit chubby, scale back. If they add on too much weight, it will apply pressure to their bones. Overtime, many issues can arise from that.
On the other hand, if you can see bones, you need to feed them a bit more.
Some advice from our Facebook group members may also be helpful in determining a schedule that works for your lab pup. Jennifer Rebello said she fed her lab three times a day until the pup reached 8 months. Currently, she is fed twice a day now. Brenda Lizbinski said her girl was very active when she was a pup, so she got 2 cups of food 3 times a day. The older she got, her servings were adjusted to coincide with her weight.
Feeding Tips For Your Lab Pup
The following tips will help you make sure your pooch gets the most from his food.
Do not feed your labrador any foods that are full of wheat and fillers.
Remember if you are going to switch brands, do it slowly. Jeanie Salter from our Facebook group said if you do not transition slowly, your pooch will vomit or have diarrhea.
Do not be tempted to overfeed your labrador. There is a higher chance of cancer, diabetes, arthritis, and other ailments that may occur when your precious pup is overweight.
Wrap Up
Your labrador will be what it eats. If you want him to have a shiny coat, healthy bones and teeth, and lots of energy, it will pay to pick a top dog food brand for them, starting as soon as they can eat puppy food.
To assist in helping your beloved dog live a long and healthy life, pick high-quality and nutritious dog food from the start to set a strong foundation for the rest of their life.
Managing Editor, With a background in health, holistic nutrition and science, Chloe has written for international publications including the Wall Street Journal and Green King.